In previous blog posts, we discussed our intervention in body composition, as well as the results obtained in cardiovascular fitness and in muscular strength. On this occasion, we are going to give you the planning that was carried out, and we are going to offer all the details of this intervention.
First of all, let us recall that during this intervention the sample was divided into two groups:
i) Performed only aerobic exercise (Group AE).
ii) Performed aerobic exercise with the electrostimulation suit on (Group AE + EMS).
They all trained with an equal external load. For the calculation of this external load, we used the Heart Rate Reserve (HRR), and 60-65% of it was calculated. Once the heart rate range at which the participants had to train was known, the resistance to be placed on each of the devices (exercise bike and elliptical trainer) was calculated, as well as the cadence at which they had to pedal. This way, we had on an individual basis the resistance that had to be placed (LEVEL) and the revolutions per minute (RPM) at which each person had to pedal on each device.
Figure 1 shows an example of one of our participants. This sign was placed in the training area corresponding to each participant so that, before starting the training, the participant already knew which machine to use, the intensity and the RPM.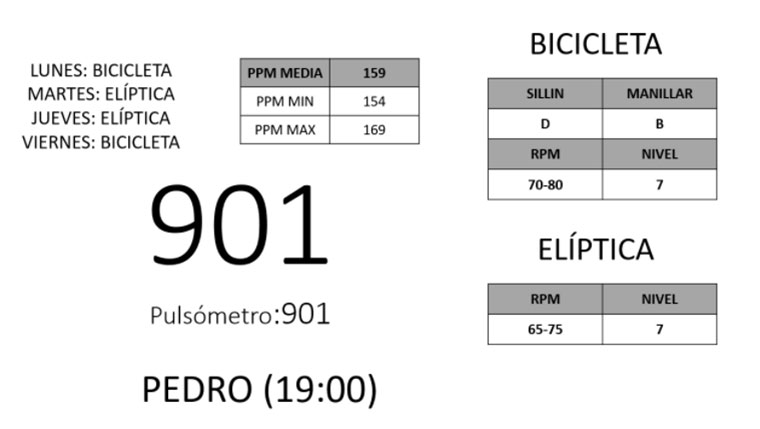 Next, a Polar OH1 heart rate sensor was placed on the forearm so that there would be no transfer of electrical current with the electrostimulation suit. A trainer specialized in EMS ensured that all suits were properly fitted and that all training devices were ready to begin training.
Below is a sample session, but you can also see the complete training program by clicking on the button below: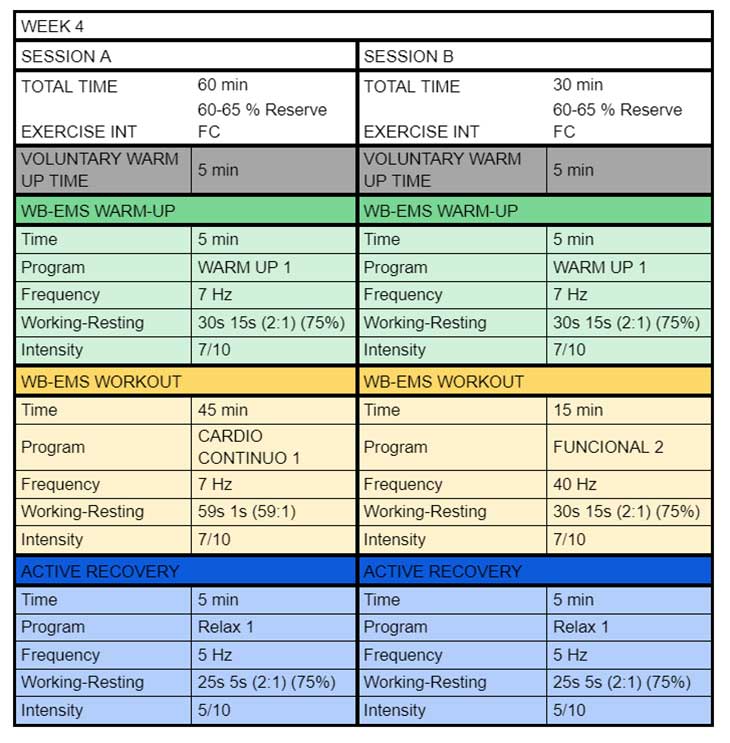 As you can see, there are several differences in the AE + EMS group between one type of session and another:
Total time: In one session, we have a duration of 60 minutes while in the other the total time amounts to only 30 minutes.
EMS application mode: We use different programs with all that that entails:

Application mode 45 minutes vs. 15 minutes.
Frequency: 7 Hz vs 40 Hz.
Working-resting time: 59:1 vs 30:15.
However, in the AE group, the only difference between one session and another was the total time, which ranged from 30 to 60 minutes.
Conclusion
The objective was to test if concurrent EMS training (using different frequencies) may have any effect on the parameters we have mentioned in previous posts: body composition, cardiovascular fitness and muscular strength. However, this model was simply choice made by the Wiems Lab; there are still other models, with different electrical parameters that we have not yet analyzed, from which we will get better benefits and data.
Unai Adrian Perez de Arrilucea
Wiems Lab Team